Queen Elizabeth's granddaughter to compete in London Olympics
Zara Phillips will compete for Britain in eventing, an equestrian sport that combines dressage, show jumping and cross country.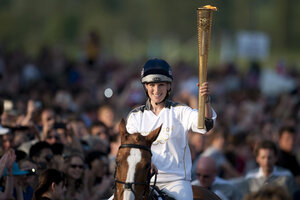 Kieran Doherty/REUTERS
One thing is often said about Queen Elizabeth II's oldest granddaughter, Zara Phillips: she thrives under pressure. It's about to be a very useful skill.
The 14th in line for the British throne has defied the odds, clawing her way to a spot on the British Olympic equestrian team after a strong performance last weekend at Bramham in northeast England.
"She brings a unique ability to deal with pressure," said Jimmy Wofford, a U.S. expert on eventing, the three-part event that Phillips competes in. "I wouldn't want the lifestyle that produced it, but our format these days guarantees a cliffhanger finish ... You have to have Sunday afternoon nerve."
The grueling sport combines the precise balletic movements of dressage, the athletic display of show jumping and the endurance and speed needed for cross country courses.
Only a few weeks ago, the 31-year-old was widely considered to be a long shot to make the strong squad. Britain's sodden spring had led to the cancellation of several big equestrian contests that would have given Olympic decision-makers a chance to see her in action.
But Phillips proved it is a mistake to count her out. She kept charging on, even skipping the huge Thames boat pageant marking her grandmother's Diamond Jubilee — 60 years on the throne — so that she could compete. She and her horse, High Kingdom, just kept getting better, melding as a team, forcing observers to note her consistency and her experience.
Phillips has suffered many disappointments before. She had been selected to compete for the 2008 Beijing Olympics on Toytown, an exceptional horse with whom she seemed to share an uncanny bond. But Toytown got injured only weeks before the games, and since horse and rider compete as a team, Phillips stayed home.
She struggled in the years that followed. But then last fall she came charging back on High Kingdom, a 16.2 hands high (5-foot-6-inch) bay gelding that she describes as "a pretty cool, very relaxed kind of guy."
---