Guess what? Lindsey Vonn was never going to win five medals.
(Read article summary)
Lindsey Vonn spun out of the combined event today with a mistake in her slalom run. She'll be disappointed, but she knows that winning a medal in each alpine event was never realistic.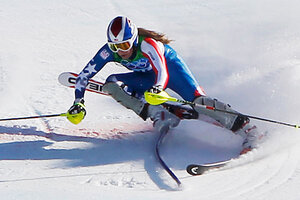 Mike Segar/Reuters
Whistler, British Columbia
Lindsey Vonn's quest for five Olympic medals ended today. Which is just as well, because it had never truly existed outside the realm of imagination.
Vonn will be disappointed that it ended today. When she caught a tip on a gate and spun out of the course during the slalom run of the women's combined, she was well placed for a medal, perhaps silver.
This was one of the events where she could win – was favored to win – a medal.
But if her medal run hadn't ended today, it almost certainly would have ended Wednesday in the giant slalom or Friday in the slalom. Sure, NBC and the rest of America would have been happy with that – one more week to imagine that the fantastic just might come true.
But today is a day to be honest: It was never going to happen, anyway, and Vonn knew that.
No woman has ever won five alpine skiing medals in an Olympics for one reason: It's really hard, maybe impossible.
Thursday's combined event showed why.
The combined adds one run of downhill to one run of slalom for an aggregate time. The goal is to determine the sport's most well-rounded skier by forcing her to compete in skiing's two most different disciplines – sort of like forcing Peyton Manning to play quarterback in the first half and wide receiver in the second.
---