Turin-ing back the clock: Can Bode Miller win five medals?
(Read article summary)
Bode Miller has won three medals in three races at these Winter Olympics. With two races left, will he feel any pressure – as he did in Turin – to win five?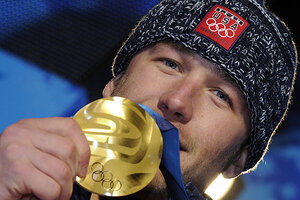 Newscom
Vancouver, British Columbia
Bode Miller's new Olympic attitude will now face its sternest test yet: his own success.
Even up to the point of Sunday's super combined, Miller was skiing in an atmosphere of suspended disbelief: Could this really be the same Bode Miller who blew up in Turin? Surely, he would fly off into the slopeside Douglas firs on the next run.
Now, after Miller won his first-ever Olympic gold, his third consecutive medal of these Games, and the fifth Olympic medal of his career Sunday, the conclusion is inescapable: He is really, really good.
But doesn't that bring us right back to where this all started? Miller has won three medals in three races. There are two races left – the giant slalom (Tuesday) and the slalom (Saturday) – and he has already won an Olympic medal in one of them (giant slalom, 2002).
So ... does this sound familiar: Can Miller win five Olympic medals?
The answer, incredibly enough, is yes.
Can he do it, or will he do it?
Miller is the only skier in history to win at least five World Cup races in all five disciplines – downhill, super-G, giant slalom, slalom, and the combined. He is one of the world's best all-around skiers of the past 30 years.
---