Vancouver Olympics final medal count: Who won?
(Read article summary)
The US and Canada split the overall and gold-medal count lead at the Vancouver Olympics, with the US breaking the record for overall medals won in a Winter Games and Canada winning a record number of golds.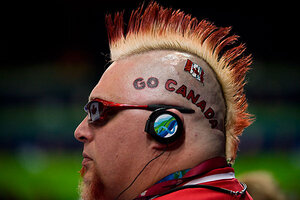 Newscom
Vancouver, British Columbia
The best Olympics ever.
The Vancouver Olympics medal count suggests that both the United States and Canada can claim that title.
Canada's 13 gold medals ties Norway's 2002 effort for the most ever in a single Winter Olympics – and Canada is favored to get a 14th Sunday in the men's hockey final against the United States.
It's a US-Canada cross-border rumble on Games' last weekend.
Whatever happens in that game, the United States will win at least a silver, giving it 37 overall medals, which will break the record of 36 set by Germany, also in 2002.
Before we start anointing this Olympics with superlatives, though, it bears noting that, by another measure, the medal accomplishments of the US and Canada were average, or even below par: medals per event.
Yes, the US and Canada won a record number of medals, but there were a total of 86 events – 258 medals – to be won. By contrast, in 1928, there were 14, and Norway won 15 medals, six gold – an average of 1.07 medals and 0.43 golds per event.
86 years in the making: a US gold in Nordic combined
To do that, the US would have needed to win 92 medals, Canada 37 golds.
---