How to curb chronic homelessness? First, a home!
Permanent supportive housing, a movement to supply homeless people with housing first and deal with their other issues second, has made big strides in reducing homelessness this decade.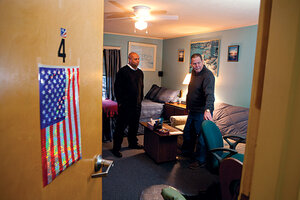 Melanie Stetson Freeman/Staff
The simple though revolutionary concept that the most lasting cure for homelessness is, in fact, a home has helped the federal government and private groups make significant headway against homelessness during the past decade.
For years, the battle against homelessness was fought against symptoms. The answer to getting people off the streets, it was believed, was treating the underlying problems that faced the homeless, such as mental illness or drug and alcohol addiction.
But last year, the number of so-called permanent supportive housing units in the United States exceeded the number of emergency shelters for the first time. The reason is simple, advocates say: Permanent supportive housing not only removes the stigma of homelessness but is also cheaper than other alternatives, studies show.
Thanks by and large to this dramatic shift in thinking about solutions to homelessness, the number of long-term homeless has decreased by nearly 39 percent since 2005. Perhaps most surprising, homelessness has stayed flat since 2009, despite the tremendous economic pressures of the recession's aftermath.
"There has been a complete paradigm shift in this country away from using emergency, big congregate shelters just to get people off of the street," says Brian Sullivan, spokesman for the US Department of Housing and Urban Development (HUD). "This system is merely a band-aid with a big revolving door, and modeling our entire system of care on this wasn't having any meaningful impact in reducing homelessness, especially among the chronically homeless."
Permanent supportive housing provides immediate access to affordable rental housing without requiring participation in psychiatric or sobriety treatment, a common deterrent for many homeless people, says HUD's Mr. Sullivan. After settling in, clients are offered a range of services to help them maintain their housing, including mental health and substance abuse counseling, health care, and job training.
---