How NATO is navigating Syria (and other issues for the evolving Alliance)
On the sidelines of the UN General Assembly in New York, the NATO secretary general discusses Syria and how 'smart defense' will contribute to cash-strapped Alliance members' security future.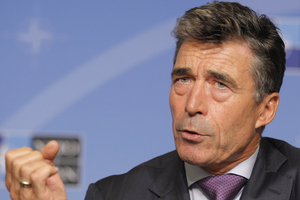 Yves Logghe/AP
One of the advantages for NATO Secretary-General Anders Fogh Rasmussen in attending the United Nations General Assembly meeting this week is that it's not his show.
That means the former Danish prime minister at the helm of the 28-nation Atlantic Alliance has a little extra unprogrammed time – for a morning run or two in Central Park or to meet with reporters to extend to the US public his message of NATO's transition from a cold-war footing to a 21st-century security alliance.
Mr. Rasmussen, whose five-year term ends next summer, sat down in New York with the Monitor to discuss Syria, Afghanistan, and why "smart defense" will be a growing feature of cash-strapped NATO members' security future.
Syria: Steps to protect Turkey from civil war spillover, but no additional role
At Turkey's request, NATO deployed batteries of Patriot missiles along the Alliance member's border with Syria, and provocative incidents between the two unfriendly countries largely ceased. "We do believe [deploying the Patriots] has a deterrent effect, so that potential adversaries don't even think about attacking Turkey," Rasmussen says.
---