A message from Homs (+video)
(Read article summary)
Paul Conroy, a photographer wounded in the attack that killed reporters Marie Colvin and Remi Ochlik, speaks from the devastated Syrian city of Homs.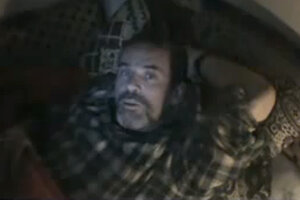 Youtube
(Update: Without providing much in the way of details, the British Foreign Ministry said Conroy is leaving Syria. No mention of Edith in the AFP piece, but it's reasonable to assume she'll be leaving with him, however that was arranged.)
The reporters should never be the story. The reporters should never be the story. We're told this when we're starting out by the older and wiser, we tell ourselves this again and again when we think about doing something brave (or stupid, depending on your perspective), and I've been muttering this under my breath following the recent deaths of Anthony Shadid, Marie Colvin, and Remi Ochlik in Syria.
Anthony passed because his asthma caught up with him while being smuggled out of Syria, far from modern medical care. Marie and Remi were killed in a mortar and rocket attack in the Syrian city of Homs, which by the day is looking more like Grozny during the height of the Russian assault on the Chechen capital over a decade ago (the city is even being hit by the same ghastly weapons).
---