Iraq's ominous trendline of violence
(Read article summary)
Terrorism is up in Iraq, as are political tensions.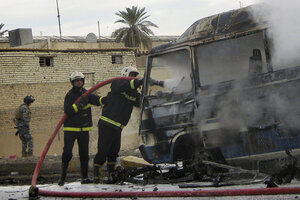 Hadi Mizban/AP/File
Attacks in three Iraqi cities last week killed 46 citizens, with the targets Shiite pilgrims and government security forces. The Islamic State of Iraq, a Sunni insurgent group that has styled itself as a local Al Qaeda affiliate, claimed responsibility. Given the targets and methods deployed, that's probably true.
Iraqi security officials said they weren't surprised by the attacks. An Arab League meeting is scheduled to begin in Baghdad tomorrow – the first in Iraq's capital since Saddam Hussein invaded Kuwait in 1991 – and forces have been on alert against insurgent efforts to embarrass the Shiite-dominated government of Prime Minister Nouri al-Maliki.
That anticipation did little to save the lives of this week's victims. More than $1 billion has been spent sprucing up Baghdad ahead of the meeting, and the country's government has been getting the word out that Iraq has put its war in its rear-view mirror and the country, as the saying goes, is open for business. But violence has been steadily rising.
The reason why is due to the same problem that the US-led occupation authority had in coming to grips with terror-style attacks at the height of the war in the country between 2004 and 2008: Lots of Iraqis were passively supportive, because they resented the new order, resented the presence of foreign troops, or simply feared retaliation.
---