The sacred and the profane: Indonesian churches and Lady Gaga
(Read article summary)
The pop-star Lady Gaga and Indonesian churches have both been the recent target of a thuggish group called the Islam Defenders Front.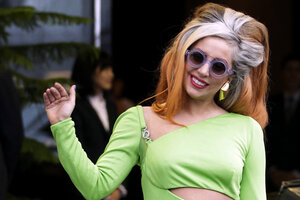 Pichi Chuang/Reuters
Lady Gaga, the pop-star known for envelope-pushing stunts that might even make a young Madonna blush, and the churches of Indonesia now have something in common.
They've both been targets of the Front Pembela Islam (Islam Defenders Front), a group of self-appointed morality cops who have been increasingly brazen in demanding their own chauvinistic approach to Islam be pursued in the Muslim world's biggest country.
Gaga had a concert scheduled for Jakarta's largest stadium this June 3. But in the past week the FPI has issued a series of escalating threats, with the group's leader Habib Rizieq threatening to send a mob to the airport to wait for her, and to break up the event by force if she made it to the venue.
The response? The Jakarta police caved, refusing to issue a permit for the concert citing security concerns.
That's just the most recent in a string of successes for FPI muscle-flexing, and the least serious. While there are free speech issues at play, a group of well-to-do Jakarta teenagers deprived of the chance of seeing their favorite singer is hardly a tragedy. But that's just the tip of the iceberg.
Earlier this month, the group dogged the speaking tour of Irshad Manji, a Muslim reformist and out lesbian. Her promotional effort for her new book "Allah, Liberty and Love: The Courage to Reconcile Faith and Freedom" was cut short.
---