Kofi Annan admits Syria plan failing, calls for international action
(Read article summary)
Former UN Secretary General Kofi Annan, the UN's special envoy to Syria, essentially admitted his mediation efforts have failed in a speech at the UN and laid most of the blame at the feet of Bashar al-Assad.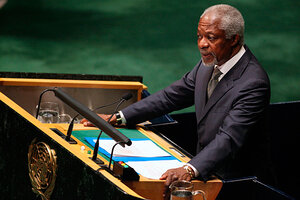 Allison Joyce/Reuters
In a hastily convened UN General Assembly meeting following a massacre of dozens of unarmed civilians in Syria yesterday, Special Envoy Kofi Annan all but admitted that his six-point plan to bring peace to Syria has been a dismal failure.
In a speech filled with condemnation for Syrian President Bashar al-Assad, Mr. Annan said that, while he appealed to the Syrian leader directly a week ago to restrain his armed forces and the irregular shabiha militias working with them, the pace of the slaughter has only increased. He said the militias in particular appear to have been given "free rein" by the government.
On Friday, 108 civilians were massacred in a group of villages known as Houla in Homs Province. First, government forces shelled the area and then, according to the UN, shabiha moved in with guns and knives. Among the slaughtered were 49 children. Early accounts out of Mazraat al-Qubair, near the city of Hama, from yesterday, suggest a similar series of events unfolded there yesterday. The UN says 78 people were murdered there, though has not been able to independently confirm events. UN Secretary-General Ban Ki-moon said unarmed UN observers came under rifle fire when they attempted to visit the area.
---