US drought already rippling out into the world
(Read article summary)
Scuffles in Jakarta markets between tofu producers and soybean traders may be a taste of things to come.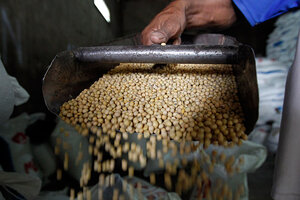 Supri/Reuters
Much of America's grain belt is gripped in one of the worst droughts in 50 years, and grain prices are already surging.
While that's bad news for America's farmers, the real danger is the effect that will have in poor countries, where even small shifts in prices can have a big impact on the living standards of hundreds of millions of people from Central America to Egypt (the biggest wheat importer in the world) and right across to Indonesia and China.
The US is the world's largest wheat and corn exporter, and its third largest exporter of soybeans. This is less of a case of the beat of a butterfly's wings causing a storm on the other side of the globe then a storm here causing a catastrophe elsewhere. With the northern hemisphere summer less than half over, and no relief in sight for the US drought, the impact of rising food prices globally is set to become a big story in the months ahead.
Globalization has its upsides, but it also means that a peddler in Mexico City or a factory worker in Mumbai is more vulnerable than ever to the whims of North American weather and agricultural policies in the developed world.
---