Worst drought in 50 years could last through October
Forecasters at the National Oceanic and Atmospheric Administration's Climate Prediction Center were unable to assure growers that there is an end to the drought in sight. In the meantime, grain prices have skyrocketed.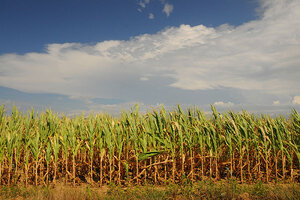 AP Photo/Tribune-Star, Jim Avelis
Grain prices pushed to record highs on Thursday as scattered rains in U.S. Midwest did little to douse fears that the worst drought in half a century will end soon or relieve worries around the world about higher food prices.
Government forecasters did not rule out that the drought in the U.S. heartland could last past October, continuing what has been the hottest half-year on record.
"There's a greater chance that there is no relief possible or in sight" for the U.S. Midwest, Dan Collins of the National Oceanic and Atmospheric Administration's Climate Prediction Center said on Thursday.
More than half the United States was experiencing moderate drought or worse this week, according to the latest U.S. Drought Monitor report issued on Thursday.
More than 70 percent of the Midwest Corn Belt was in some stage of drought in the week ended July 17, up from 63 percent a week earlier. It adds up to the worst drought conditions in the United States since at least 1956, climate experts said.
"We don't have a reason for saying it's going to improve," Kelly Helm Smith of the National Drought Mitigation Center told a briefing on Thursday, adding that warmer conditions in the coming months might well exceed current levels.
Crops Plowed Under
That is bad news for farmers and consumers, with corn, soybeans and wheat in the United States -- the largest world exporter of those key crops -- baking in fields, losing yield potential daily or being plowed under for insurance claims.
---