Syria's Assad, in rare speech, claims victory is nigh (+video)
(Read article summary)
President Assad once again blamed the 10-month uprising on foreign conspirators and armed gangs. But this time, Arab League monitors in Syria may contradict his version of events.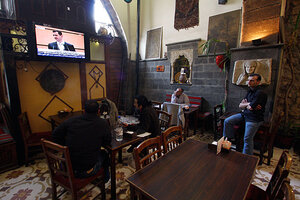 Muzaffar Salman/AP
• A daily summary of global reports on security issues.
In a rare speech today, Syrian President Bashar al-Assad blamed 10 months of unrest on foreign conspirators and vowed to come down on "terrorists" with an "iron fist." Notably absent from the speech, with went on for more than an hour and a half, were any concessions.
The speech "gave no hint of any flexibility that could break the deadlock between his regime and the opposition," but instead suggested the regime believes its brutal crackdown is close to breaking the opposition, reports the Guardian newspaper. "We are nearing the end of the crisis," Mr. Assad said. "We should stand united.… Victory is near because we can be steadfast. We know our enemies."
The speech – only his fourth public address since the uprising began in March – "differed little" from previous speeches in which he made vague promises of reform, blamed the violence on terrorists and foreigners, and remained generally defiant of internal and international criticism, according to the Associated Press. This time, however, there are Arab League observers in the country to evaluate his claims of foreign saboteurs and media lies.
"Bashar is completely removed from reality, as if he is talking about a country other than Syria," said a Syria-based activist who identified himself by his nickname, Abu Hamza, because of fear of reprisals. "After 10 months of bloodshed, he comes out and talks of a foreign conspiracy."
---