Wounded Syrian refugees describe firefight, siege
Most of the Syrian refugees recovering in a Lebanese hospital are from small towns near the border. Their stories illustrate the perils facing many Syrians as Assad's regime cracks down.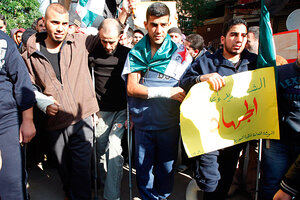 Omar Ibrahim/Reuters
A small charity-run medical center in this northern Lebanese city is quietly providing healthcare to a rising number of Syrians, civilians and combatants alike, who have been wounded in the nine-month confrontation against Syrian President Bashar al-Assad's regime.
Many of those recovering in here are from Qusayr, a town of some 44,000 residents lying five miles north of Lebanon and close to the flashpoint city of Homs. Their accounts paint a grim portrait of a town under siege by Syrian security forces with no electricity, no telephone communications, and dwindling food supplies – illustrating the perils that many Syrians face as the Assad regime cracks down on an increasingly violent uprising.
Abu Ahmad, an engineer's assistant, was hit in both legs by machine gun bullets when leaving a mosque after prayers to join in a demonstration.
"They shot at us as we coming out of the mosque. I was hit by three bullets in the legs," the thickly bearded man says, lying in his hospital bed. "We were only asking for our freedom, but they consider us terrorists."
Bystanders attempted to give him medical assistance but he had to wait for four hours until it grew dark before he could risk the journey to the Lebanese border. The bullets had shattered a knee cap and a bone.
"They gave me painkillers and wrapped me in a blanket and placed me the back of a truck. We moved from village to village in the darkness and then crossed the border where the Red Cross was waiting for me," he says.
Safety concerns even in Lebanon
A floor of the Tripoli hospital has been turned over to Syrian casualties who are forced to undertake the hazardous journey across the border with Lebanon that is patrolled by army troops and laced with land mines.
---