Refugees recount brutal crackdown in western Syria
Accounts from refugees who fled to Lebanon from western Syria highlight the repressive tactics used by President Bashar al-Assad's regime as it struggles to stifle a pro-democracy uprising.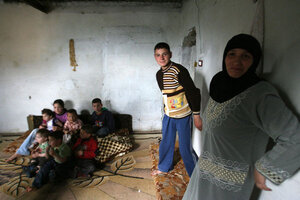 Omar Ibrahim/Reuters
Hundreds of residents of Tel Kalakh in western Syria have escaped an intensifying siege by the Syrian army by slipping across the nearby border with Lebanon.
"They are terrorizing the town," says Ammar, a 33-year-old taxi driver. "The people are living in fear there."
The stories told by the frightened refugees of Tel Kalakh highlight the repressive tactics used by President Bashar al-Assad's regime as it struggles to stifle a pro-democracy uprising. against his family's 40-year rule.
Tel Kalakh, a town of some 20,000 mainly Sunni residents is surrounded by villages populated by the minority Alawite sect, an offshoot of Shiite Islam, which forms the backbone of the Syrian regime.
Anti-regime protests took hold in Tel Kalakh in response to the regime's harsh crackdown against Deraa in southern Syria, which has become the epicenter of the six-week uprising in south.
As the demonstrations in Tel Kalakh grew, the Syrian security forces flooded into the area. Residents say that the security forces attempted to recruit assistance from the surrounding Alawite villages, adding a sectarian edge to the local tensions.
"The army sent tanks into the town and set up blockades on all the main roads. I was told at one checkpoint that I should leave because they were planning to raze the town to the ground," Ammar said.
Footage of the demonstration carried on his cellphone showed protesters brandishing banners in English reading, "We don't want you" and "Go out Bashar."
Sheikh Abdel Rahim Akkari, the town's cleric, is seen speaking to the crowd and denouncing the regime's accusations that the protests are stirred by Islamic extremists.
"Where are the Salafists you are looking for?" Sheikh Akkari asked rhetorically. "They are all in your prisons. All we are asking for is our freedoms."
An estimated 2,000 residents, mainly women and children, had fled the town two days earlier on Wednesday, walking the two miles to the border with Lebanon. Some of the women were molested by a group of military intelligence officers and Alawite "Shabiha" militiamen on the border, residents said. The harassment of the women spurred a squad of Syrian border guards, usually composed of locally-recruited personnel, to attack the intelligence officers and militiamen, they added. A small border post was burned to the ground.
---
Follow Stories Like This
Get the Monitor stories you care about delivered to your inbox.