UN council issues tepid rebuke of Syria. Does it want to avoid another Libya?
The UN Human Rights Council barely backed a watered-down condemnation of Syria for its attacks on civilian protesters. The pushback suggests some nations worry that the West overstepped its bounds in pressing for strong action against Libya – and want to avoid a repeat.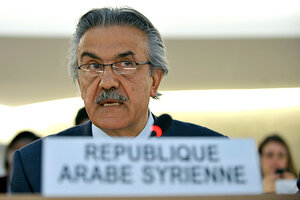 Martial Trezzini/AP
The United Nations' top human-rights body on Friday split over how to respond to Syria's state-ordered violence against civilians – even as Syrians defied the regime of President Bashar al-Assad and turned out in protests across the country.
The UN Human Rights Council approved a watered-down statement sponsored by the United States that condemns the military-on-civilian violence that has killed as many as 500 people, according to reports from Syrian rights organizations. The statement also calls on the UN's top human-rights official to undertake an immediate investigation of the violence for violations of international law.
But the statement had to overcome a barrage of opposition from China, Russia, and some African countries that made it clear they were balking at following the same path the international community has taken against the regime of Muammar Qaddafi in Libya. The statement squeaked by with 26 votes in favor from the 47-member body.
Nine countries – including China and Russia – voted against the measure, while 11 either abstained or were not present.
The council's split suggests that the long-lived divide over human rights between Western and developed democracies on one side and developing, often autocratic regimes on the other is alive and well.
Declarations at Friday's council session from Russia, China, and some other members suggest that a number of countries now feel Western countries have overstepped their bounds in using international condemnation of Libya to enter the conflict there, and they don't want the same to occur in Syria.
---