Syria's Assad regime gets little sympathy from neighbors
Bashar al-Assad and his father, Hafez al-Assad, kept Syria stable for 40 years through Machiavellian guile and ruthlessness, while sowing havoc elsewhere in the region.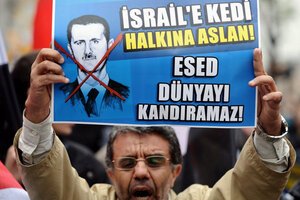 AP
Syrian President Bashar al-Assad must wince whenever he recalls saying in a January interview that unlike Tunisia and Egypt, Syria was stable because the leadership is "very closely linked to the beliefs of the people.
"This is the core issue," he told The Wall Street Journal. "When there is divergence between your policy and the people's beliefs and interests, you will have this vacuum that creates disturbance."
Now Syria is in the throes of escalating protests and an intensifying government crackdown that has left more than 400 people dead, including 15 today in the southern flashpoint town of Deraa. The protest movement has issued a stark ultimatum to the president: Transition to democracy, or be toppled.
"What has happened to him is really a tremendous shock," says Patrick Seale, a veteran journalist and biographer of Bashar's father, Hafez al-Assad.
Why Syria's uprising is even more surprising than Egypt's
It's not just Syria, of course. The stunning events in the Arab world over the past four months represent the greatest regional upheaval since the modern Arab states were established by European colonial powers more than 70 years ago.
---