Once seen as shy reformer, Syria's Assad confounds hopes
Many thought that Syrian President Bashar al-Assad was at heart a reformer. But his response to unprecedented protests and violence suggest otherwise.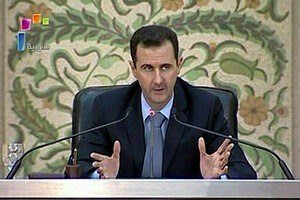 Syrian TV via Reuters TV/Reuters
Ever since Bashar al-Assad became president of Syria nearly 11 years ago, he has confounded analysts, diplomats, journalists and pundits alike.
Is he the shy, slightly goofy character who comes across in his public addresses, whose genuine desire to reform his country has been thwarted by vested interests within the regime and a succession of foreign crises?
Or is he, in fact, cast from the same stern mold as his father, Hafez al-Assad, a rigid autocrat who sacrifices freedoms to ensure regime survival and stave off the instability that saw Syria prone to multiple coups in the years before the Baath Party took power in 1963?
"It is hard to tell – Assad gives very few clues," admits Andrew Tabler, a Syria expert at the Washington Institute for Near East Policy who lived in Damascus between 2001 and 2009.
The unprecedented and deadly protests that have swept the country over the past five weeks have presented Assad, who is 45, with his sternest challenge yet. While it is the first serious domestic unrest during his decade in power, it is far from being his first crisis.
Indeed, just two months after he was sworn in as president, the Palestinian Al-Aqsa intifada broke out in the West Bank and Gaza, an event that put Damascus in the spotlight given its backing for groups such as Hamas and Palestinian Islamic Jihad. Then, a year later, came the Sept. 11 attacks and the beginning of the Bush administration's war on terror.
---