Russia pressures Syria to extend Arab League observer mission
(Read article summary)
The Arab League observer mission to Syria officially ends tomorrow. Many have dismissed it as ineffective, but it may be the only alternative to UN action, which Russia has blocked.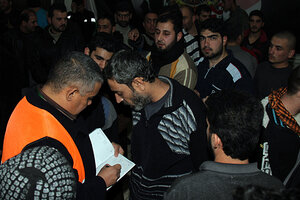 Bassem Tellawi/AP
• A daily summary of global reports on security issues.
The Arab League's observer mission in Syria officially ends tomorrow with no indication that President Bashar al-Assad has eased his crackdown since monitors arrived in late December. The United Nations Security Council and Arab League are struggling to decide their next steps.
The mission was sent in to verify that Mr. Assad was complying with a peace plan that he agreed to in November, which included ending violence against protesters, withdrawing troops from Syrian cities, and releasing political prisoners.
The UN has estimated the death toll to be at least 5,000; hundreds have been killed just since monitors arrived last month, Reuters reports. An Arab League source told Reuters that the Assad regime will allow the monitor mission to be extended for another month, but will not permit an extension of its mandate. The mission has been controversial from the start because it lacks any teeth and monitors have had to rely on the Syrian government for protection and direction. Critics of the mission called it ineffective, with some saying it is providing cover for the Assad regime.
---