SEAL Team 6: Somalia rescue illustrates new US military strategy
(Read article summary)
The Obama administration has spoken of the need for a 'smaller, more agile' military. Covert operations such as the one that rescued two aid workers in Somalia are part of that strategy.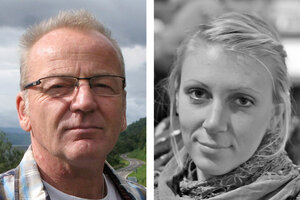 Danish Refugee Council/AP
• A daily summary of global reports on security issues.
Less than a year after a daring raid killed Osama bin Laden in Pakistan, another raid involving the same elite US Navy SEAL unit freed two aid workers being held hostage in Somalia by pirates in the type of covert, narrowly-targeted operation that is becoming more common for the US.
The SEALs, with other members of the US military, parachuted into Somalia about two miles from where the hostages were being held, walked to the location, and freed the hostages. They were picked up by helicopters, which brought them to the nearby town of Galkayo, where they flew out on a military plane, The New York Times reports. According to the Pentagon, no prisoners were taken, but nine Somali gunmen were killed. The Associated Press reports that all the captors were killed.
American Jessica Buchanan and Dane Poul Hagen Thisted were kidnapped on Oct. 25, en route to the airport in Galkayo while working for the Danish Relief Council.
---