Fighting in Damascus belies Syrian government's claim of control
(Read article summary)
Syrian government troops and rebel forces clashed in the most violence Damascus has seen in the year-old uprising.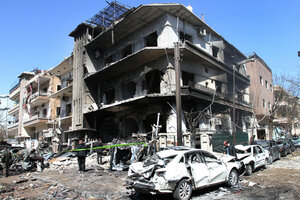 Bassem Tellawi/AP
• A daily summary of global reports on security issues.
Fighting erupted between Syria's opposition forces and government troops in the capital today. Witnesses reported hearing heavy machine gun fire and rocket-propelled grenades as the rebel Free Syria Army clashed with government troops.
The fighting reportedly took place in Mezzeh, a neighborhood that is home to a number of government security facilities, United Nations headquarters, and foreign embassies. Many government loyalists also live in the area.
Monday's violence is the most fighting seen in Damascus since the Syrian uprising began a year ago. The clashes stand in stark opposition to claims by the Syrian government that they are in control of the capital.
"This means that the regime does not have full control of the [Mezze] area," said Lena, a spokeswoman for the Revolution Leadership Council in Damascus, in a Skype interview with the Guardian. "It was [said] that the Free Syrian Army was carrying out a mission there, but we still don't know. We haven't heard anything from their part yet. But it seems that there might have been a defection in a building there – the political intelligence department."
---