Not so defiant: Egypt's parliament meets for 5 minutes
(Read article summary)
Egypt's parliament defied a military order for its dissolution and convened briefly today, but did so merely to determine how to respond to a Supreme Court ruling declaring the parliament invalid.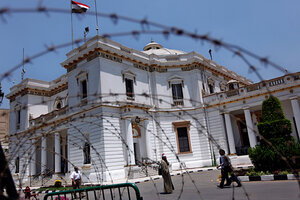 Khalil Hamra/AP
• A daily summary of global reports on security issues.
Egypt's parliament reconvened today in defiance of the order for its dissolution, though it quickly adjourned in a move that could mitigate the potential discord between recently inaugurated President Mohammed Morsi and the military.
Al Jazeera reports that the parliamentary session lasted only five minutes, beginning after a brief speech from Speaker Saad al-Katatni of the Muslim Brotherhood, who said that the legislative body had gathered only "to review the court rulings, the ruling of the Supreme Constitutional Court." Last month the court declared the parliament invalid, prompting Egypt's interim military leaders to dissolve the legislature.
"I want to stress, we are not contradicting the ruling, but looking at a mechanism for the implementation of the ruling of the respected court. There is no other agenda today," he added.
Mr. Katatni then proposed that parliament seek help from an appeals court in implementing the Supreme Court ruling. Parliament approved Katatni's proposal and adjourned. Ahram Online reports that parliament's decision to defer to the courts is being seen as a "possible compromise between the Muslim Brotherhood and Military Council, thus staving off what looked to be a serious constitutional and political crisis."
---