Syria's stalemated conflict picks up speed again
(Read article summary)
Syrian rebels say they never expected the war with the regime to last this long. A string of strategically important victories may move the conflict along again.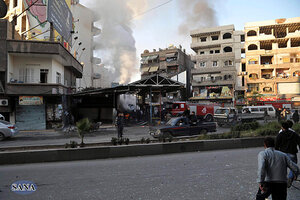 Courtesy of Syria's national news agency Sana/Reuters
• A daily summary of global reports on security issues.
Twin car bombs detonated in Damascus today, along with two blasts in nearby suburbs, killing and injuring scores – events whose grim familiarity underscores the unexpectedly protracted nature of Syria's civil war, now in its 21st month.
"We no longer count the days," Ramiz Moussa, a rebel fighter and former civil servant told the Associated Press. "Today we're in a battle, but we can't remember when it started, much less the past battles. You could ask me what day it is, but I can't tell you."
What started out as political protests during the 2011 Arab uprisings segued into a brutal crackdown by government forces, and then today's bloody civil war that opposition groups say has claimed between 30,000 and 40,000 lives.
"At the start, I never imagined it would last this long," another rebel fighter, Abdulllah Qadi, told the AP. "We have been at it for 20 months and we could be at it for 20 more. All we can do is keep fighting."
Today's car bombs all detonated within a span of five minutes in an area of the city that's home to Christians and Druze, groups largely seen as supporters of President Bashar al-Assad's regime, according to a separate AP report. Though no one immediately claimed responsibility for the blasts, state media said the attacks were the work of "terrorists," a term frequently used to describe rebel fighters. Some speculate that the "government is behind the blasts as a way of spreading fear among Syria's minorities," reports the Guardian.
---