Syrian air strikes pummel Aleppo. Time for an international no-fly zone?
(Read article summary)
Air strikes on Aleppo in northern Syria have killed hundreds of people in the past week. Regime forces are using "barrel bombs" on targets that reportedly include markets, hospitals, and schools.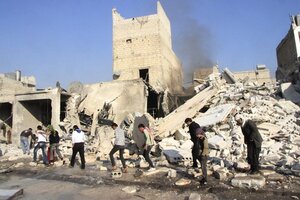 Saad AboBrahim/Reuters
A daily update on terrorism and security issues.
Much of the northern Syria city of Aleppo, part of which rebels once optimistically called "Free Syria territory," has been reduced to rubble by a particularly fierce government bombing campaign.
By most accounts, hundreds have been killed in the offensive, which has been going on for more than a week now. Civilian targets such as schools, hospitals, and markets have reportedly been targeted.
The Syrian Observatory for Human Rights, a Britain-based Syrian opposition group, said at least 65 were killed when "explosive-laden barrel bombs" were dropped on a market area Sunday, making it the deadliest day of the offensive, according to the Associated Press.
The use of barrel bombs is a particularly lethal development. They contain "hundreds of pounds of explosives and shrapnel that include metal shards and iron nails," according to a New York Times report from Dec. 16, one of the early days of the operation. Human rights groups have described them as "a particularly insidious weapon that kills indiscriminately." CNN reports that the bombs "can level entire buildings with one hit."
---