Thai, Cambodian troops clash in disputed border region
(Read article summary)
At least three soldiers were killed during gunfights near a 900-year-old temple, whose ownership has been contested by both sides.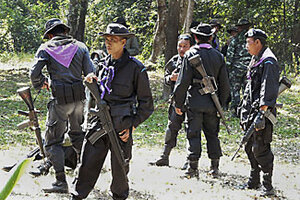 Reuters
• A daily summary of global reports on security issues.
At least three people were killed in a firefight between Cambodian and Thai troops Friday in the latest of a recent series of clashes along the disputed Thai-Cambodian border. The skirmish comes days before the two sides were set to discuss the issue at a regional summit.
Agence France-Presse reports that two Cambodian soldiers and one Thai soldier died during a number of skirmishes Friday.
"We are fighting with each other, it is serious gunfire. Two of our soldiers have been killed," Cambodian government spokesman Khieu Kanharith said. "The gunfire is continuing in at least two areas," he added....
Cambodian and Thai authorities confirmed heavy gunfire had broken out at 2:00 pm (0700 GMT) in a number of spots near the border, which has never been fully demarcated due to landmines left after decades of war in Cambodia.
"We have occupied many areas now. The gunfire ended after about 35 minutes of fighting. We have won the fight now," Cambodian commander Bun Thean told AFP.
---