Taliban power vacuum may benefit Pakistan – or Al Qaeda
(Read article summary)
A reported shootout over who will succeed Baitullah Mehsud as chief may have killed one top candidate and critically injured another.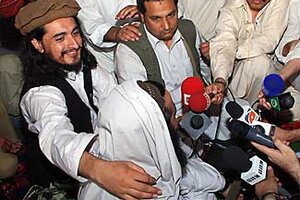 Reuters/File
• A daily summary of global reports on security issues.
Days after the leader of the Pakistani Taliban was killed in a United States airstrike, it appears that the ensuing power struggle has killed at least one more of the group's leaders. During a meeting to discuss who would take over Tehrik-e-Taliban Pakistan (TTP) after the death of Baitullah Mehsud, fighting broke out between Waliur Rehman and Hakimullah Mehsud, who were both favorites to succeed Baitullah. Pakistani government officials say Hakimullah was killed in the altercation, but there are also reports that Mr. Rehman received life-threatening injuries, and was possibly killed as well.
So far, there has been no independent verification of either death. The Taliban has denied reports of the incident, reports the Daily Times, a Pakistani newspaper.
Immediately following Baitullah's death, a number of experts told the Christian Science Monitor that such a power struggle could erupt. TTP is made up of many different tribes and factions that were held together by Baitullah. Now it remains uncertain how the organization will restructure itself without a strong leader capable of holding together rival groups.
---