Pakistan suicide bomb in Peshawar kills at least 19
(Read article summary)
The suicide bomb near a Peshawar courthouse in Pakistan could have killed more if the attacker had been able to enter the building. Peshawar has seen near-daily bombings since the Pakistani military's South Waziristan offensive began.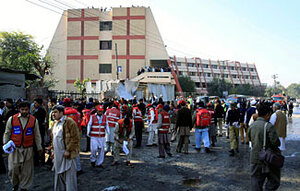 Mohammad Sajjad/AP
• A daily summary of global reports on security issues.
A bombing at a courthouse has left at least 19 people dead and dozens injured after a suicide attack in Peshawar, Pakistan. Although no one has claimed responsibility for the attack, government officials are blaming the Pakistani Taliban.
This latest attack comes as the Pakistani military continues its major offensive against Taliban and Al Qaeda militants in the South Waziristan, a stronghold for the groups. Peshawar has been the scene of many attacks in recent months, which may be designed to raise questions among the civilian population about the effectiveness of their government's military campaign.
Despite the high death toll of the courthouse bombing, officials say it could have been much worse had Pakistani police not intercepted the bomber before he entered the courthouse. Witnesses say that police stopped the bomber at a checkpoint just outside the crowded building and the bomber detonated his explosives when police began to search him, reports the Times of London. Khaista Gull, the police officer who stopped the bomber from entering the courthouse, was killed in the blast and is being hailed as a hero by government officials who say Gull averted a "major catastrophe."
---