Suicide car bomb kills 12; Pakistan says it captured US Al Qaeda member
(Read article summary)
Pakistan officials said a suicide car bomb in Lahore on Monday killed 12, and also announced the arrest of a suspected US Al Qaeda member from Pennsylvania.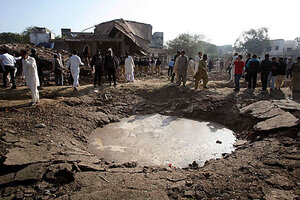 Mohsin Raza/Reuters
• A daily summary of global reports on security issues.
A suicide car bomb killed at least 12 in Lahore on Monday as Pakistani officials attempted to identify their newest captured militant, this time apparently a US Al Qaeda member.
Following a string of arrests last month leading to the capture of nearly half of the Afghanistan Taliban's leadership, American and Pakistani officials said they have now arrested Al Qaeda member Abu Yahya Mujahdeen al-Adam, according to The New York Times. The Pennsylvania native became an Al Qaeda operative commanding fighters in Afghanistan.
The arrested man was originally identified as Adam Gadahn, an Al Qaeda propagandist from California and the first American to be charged with treason since World War II, Reuters reports. But US officials said they were "highly skeptical" of Mr. Gadahn's arrest from the beginning, reports the Los Angeles Times. Gadahn grew up in Riverside, Calif., where he converted to Islam in 1995. Three years later he moved to Pakistan and began working with Al Qaeda.
---