South Korea navy destroyer in pursuit of Somali pirates
(Read article summary)
South Korea today sent a naval destroyer in pursuit of an oil tanker captured Sunday by Somali pirates in the Gulf of Aden. The tanker holds some $170 million of crude oil.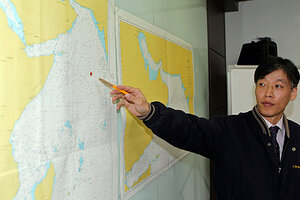 Jo Jung-ho/Yonhap/AP
• A daily summary of global reports on security issues.
South Korea's Navy sent a destroyer to pursue a South Korean-operated oil tanker hijacked by Somali pirates in the Indian Ocean, South Korea's Foreign Ministry announced Monday.
Pirates on Sunday apparently boarded the supertanker nearly 1,000 miles southeast of the pirate-infested Gulf of Aden, highlighting the broad reach of the pirates and the persistence of a problem that grabbed headlines last year with a rash of hijackings. The tanker was transporting a load of crude oil from Iraq to the US believed to be worth as much as $170 million.
The South Korean destroyer was in the Gulf of Aden patrolling for pirates when the South Korean Navy received a call from the tanker saying that three pirates had boarded it, the Associated Press reports today. It will take about one day for the destroyer to catch up with the ship, which has a crew on board of 19 Filipinos and five South Koreans and was on its way to the US from Iraq when it was apprehended.
---