Qatari diplomat causes bomb scare after smoking cigarette in airplane bathroom
(Read article summary)
Military jets were scrambled to escort a Boeing 757 to the ground after a Qatari diplomat was caught smoking a cigarette, reflecting how jittery America still is about suspicious activity on an airplane.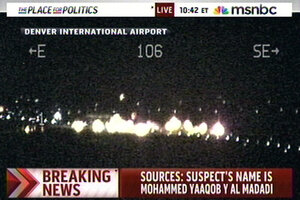 MSNBC/AP
• A daily summary of global reports on security issues.
A diplomat from Qatar has been taken into custody for causing a disturbance on a Denver-bound flight Wednesday evening. Authorities said the man apparently smoked a cigarette in the airplane's bathroom. When asked about the smell of smoke, he joked he'd been trying to light his shoes, a reference to the 2001 shoebomber Richard Reed, causing a bomb scare.
Air marshals then restrained him, and military jets were scrambled to escort the Boeing 757 and its 157 passengers to the ground. President Obama was briefed on the situation aboard Air Force One.
The strong reaction reflects a nation still jittery about any suspicious activity on an airplane – particularly after a Nigerian man attempted to blow up a Detroit-bound airplane last Christmas. That incident prompted hand-wringing and a review of airport security procedures nationwide.
---