Thai Army threatens to shoot anti-government red shirt protesters
(Read article summary)
The Thai Army escalated the rhetoric against anti-government red shirt protesters on Tuesday, threatening to use live ammunition if they resist the military.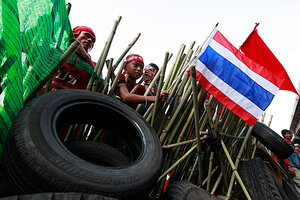 Sukree Sukplang/Reuters
The Thai Army warned that it would use live ammunition against the "red shirt" protesters should they clash with the military. The military's warning marks a significant escalation in rhetoric around the political standoff in Bangkok.
The Bangkok Post reports that the military is presenting a "newly muscular approach" to dealing with the so-called red shirts, who believe the ouster of former Prime Minister Thaksin Shinawatra was illegal and want current Prime Minister Abhisit Vejjajiva removed from office. The red shirts, many of them rural poor, have tied up the Thai capital with anti-government protests for four weeks.
The army adopted gloves-off rhetoric towards the demonstrators who have paralysed parts of the capital and forced major shopping centres to close, wreaking havoc on business life and the tourism industry in particular.

"Security forces will begin by firing tear gas and if they cannot stop protesters, then soldiers will start taking decisive action with live bullets," army spokesman Colonel Sunsern Kaewkumnerd said.
---