Israeli-Palestinian clashes after settlers march in East Jerusalem
(Read article summary)
Right-wing Israelis marched through East Jerusalem on Sunday in a bid to show Israel's sovereignty over all of Jerusalem. Israeli-Palestinian clashes broke out during the march.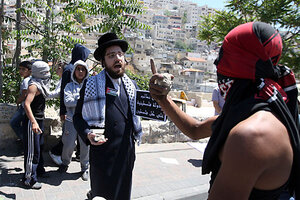 Ammar Awad/Reuters
Israeli-Palestinian clashes broke out on Sunday as a group of extreme rightist Israelis marched through the East Jerusalem neighborhood of Silwan. The Israeli demonstrators said they wanted to show Israel's sovereignty over all of Jerusalem.
While police outnumbered the less than 100 Israeli protesters, the march is being seen as highly symbolic, taking place shortly after US Middle East envoy George Mitchell has returned to the region to launch indirect talks between Israeli and Palestinian officials.
Settlements are expected to be a contentious issue in any talks, especially after the Israeli government announced it would build 1,600 homes in East Jerusalem last month during US Vice President Joe Biden's visit.
Although there are about 300 Israeli settlers in the neighborhood and 55,000 Palestinians, the rightwing protestors say that Arabs built their homes illegally without proper permits. They want the Arab residents removed and their homes destroyed. Al Jazeera's correspondent, Jacky Rowland reports that it was "difficult to measure the size of the impact" of the demonstration.
"The fact that this march took place has been seen as extremely provocative; a highly aggressive gesture on the part of the settlers - people really hell-bent on driving Palestinians from their land," she said.
---