Netanyahu insists on East Jerusalem building, hope fades for two-state solution
Israeli Prime Minister insisted Thursday on continued settlement building in East Jerusalem. Israeli expansion in the contested city is one reason Palestinians are losing hope in the two-state solution.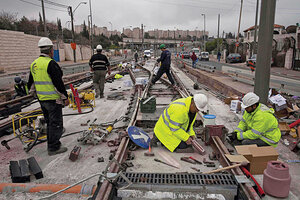 Dan Balilty/AP
Israeli Prime Minister Benjamin Netanyahu insisted in private talks with US officials over the weekend that his country's settlement building in East Jerusalem will continue, the latest in a string of pronouncements that have driven down Palestinian support for the so-called "two-state" solution, which would involve the emergence of a sovereign Palestine living side by side with Israel.
US-Israel relations have cooled over Israel's commitment to continued construction, as shown by Mr. Netanyahu's recent a no-frills visit to the White House seen in Israel as intentionally humiliating – and Palestinian leaders are furious. The prospects for restarted peace talks with the Palestinians soon are dim.
The Prime Minister has repeatedly insisted that Jews have a right to build anywhere in East Jerusalem, even in the still largely Palestinian east of the city that Israel seized in 1967 but is not seen as sovereign Israeli territory by the UN or other world governments. He told ABC this week: "The Palestinian demand is that we prevent Jews from building in Jewish neighborhoods in Jerusalem. That is an unacceptable demand."
---