Israeli settlements standoff with US: Netanyahu fails to defuse tensions
Two weeks after Israeli settlements touched off unusually high tensions with Israel's closest ally, Prime Minister Benjamin Netanyahu heads home from Washington without a resolution.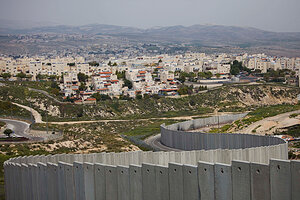 Bernat Armangue/AP
Prime Minister Benjamin Netanyahu heads back home today after failing to defuse the US-Israel standoff sparked two weeks ago by plans for new building in East Jerusalem.
Despite attempts by aides on the eve of Netanyahu's visit to portray the crisis as having blown over, political allies and analysts acknowledged that his meeting with President Barack Obama and others in Washington did little to assuage US concerns.
"There's no doubt that there's a disagreement which is not simple, and that touches the issues that are closest to us like Jerusalem … it's not easy for us,'' said Culture Minister Limor Livnat, a member of Netanyahu's Likud party, in an interview with Israel Radio. "You wouldn't expect that with the US pressing, with great strength, that the prime minister will answer all the American expectations.''
---