Thai PM says he will find political solution to Red Shirt problem
(Read article summary)
Thai Prime Minister Abhisit Vejjajiva said today he is preparing a 'roadmap' to resolving the two-month standoff between his government and Red Shirt protesters that has claimed 27 lives.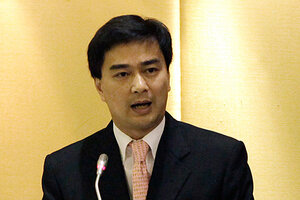 Sukree Sukplang/Reuters
• A daily summary of global reports on security issues.
Thailand's prime minister said today he will find a political solution to the tense standoff with antigovernment Red Shirt protesters that has now entered its eighth week.
Prime Minister Abhisit Vejjajiva's commitment to peacefully resolving the standoff softens his comments from Sunday, when he said that government forces were preparing to try again to clear protesters from the Bangkok commercial district they occupy. Ongoing clashes have killed 27 people and wounded at least 1,000 since the protesters marched into Bangkok on March 14 demanding the dissolution of parliament and new elections.
The Associated Press reports that Prime Minister Abhisit told parliament on Monday he would listen to the suggestions of all political parties and come up with a "roadmap" for defusing the crisis. The prime minister previously held several rounds of talks with the protesters – who are called Red Shirts for their clothing – but broke them off when the protesters insisted on dissolving Parliament within a month; Abhisit has demanded until the end of the year to call new elections.
---