South Korea's leader calls Cheonan warship sinking 'no accident'
(Read article summary)
President Lee Myung-bak today called for a review of South Korea's defenses against the North, while using his strongest language yet to imply that the North sank the South's Cheonan warship on March 26.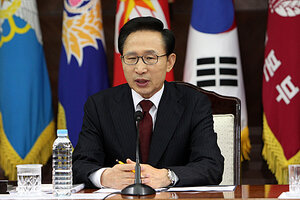 Jo Bo-hee/Yonhap/AP
• A daily summary of global reports on security issues.
South Korea's president today promised a firm response to the March sinking of the warship Cheonan while calling for a review of the South's defenses against North Korea.
While President Lee Myung-bak linked the incident to North Korea in his speech at the twice-a-year meeting of the South's top military commanders, he stopped short of accusing the North of involvement. The meeting is normally chaired by the defense minister, and Lee's presence alone revealed the heightened tensions between North and South.
"What is obvious so far is that the Cheonan did not sink due to a simple accident," Lee said, reports the Associated Press. "As soon as the incident occurred, I sensed it was a grave international and inter-Korean matter."
President Lee's continued refusal to directly accuse the North highlights the cautious approach the South is taking toward its aggressive northern neighbor, which is led by Kim Jong-il and backed by China. His comments come as the reclusive and eccentric Kim is visiting China, and could put China in a difficult position as North Korea's ally if North Korea is shown to have been involved.
---