US Envoy Mitchell meets Abbas, Netanyahu on Israeli-Palestinian talks
(Read article summary)
US Middle East Envoy George Mitchell visited Jerusalem and Ramallah this week to begin indirect Israeli-Palestinian talks. Benjamin Netanyahu is reportedly willing to release hundreds of Palestinian prisoners, but Mahmoud Abbas wants a permanent Israeli settlement freeze.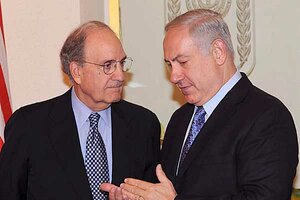 Moshe Milner/GPO/Reuters
• A daily summary of global reports on security issues.
A fresh round of mediation by US Middle East Envoy George Mitchell between the Israelis and Palestinians began this week. Mr. Mitchell met with Israeli Prime Minister Benjamin Netanyahu on Thursday in Jerusalem, after having met with Palestinian National Authority President Mahmoud Abbas on Wednesday in Ramallah.
The Palestinians and Israelis are unwilling to talk directly with each other. Instead, Mitchell's role is to shuttle between the two sides as a mediator in what are being called "proximity talks." The Palestinian Liberation Organization's agreement to the mediation has been seen as a small victory for US President Barack Obama, as he tries to restart peace talks have been on hold for 17-months, since the right-wing Netanyahu government came to power.
---