Kyrgyzstan crisis spreads as 100,000 Uzbeks try to flee
(Read article summary)
The son of former President Kurmanbek Bakiyev was arrested in England on Tuesday for alleged links to the Kyrgyzstan violence. Nearly 200 have died and 100,000 ethnic Uzbeks have fled to the border with Uzbekistan.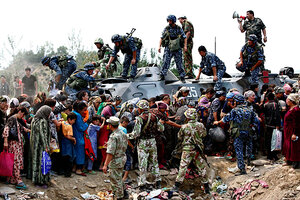 Faruk Akkan/CHA/AP
• A daily summary of global reports on security issues.
As China and Turkey send in planes to retrieve their nationals from Kyrgyzstan, ethnic Uzbeks are being told they can't flee despite deadly violence that has so far killed 171 and wounded nearly 1,800, according to the government, though the real numbers are likely much higher.
Meanwhile, suspicions continue to grow that the ousted president has links to the violence, with his son being arrested in England on Tuesday on charges that he is instigating the unrest that has largely targeted ethnic Uzbeks in the cities of Osh and Jalalabad.
Chinese state news agency Xinhua reports that a third Chinese plane arrived late Tuesday to the southeastern city Osh. That same morning, two Chinese chartered planes carrying 195 Chinese nationals who were evacuated from Kyrgyzstan.
Turkish news agency Hurriyet reports that a Turkish Airlines plane carrying 151 Turks – mostly women and children from Kyrgyzstan's southern city of Osh – landed in Istanbul on Tuesday. The Turkish government reportedly plans to send another plane to retrieve its nationals.
---