PKK attacks: Turkey's leader vows to 'annihilate' Kurdish rebels
(Read article summary)
After the PKK attacks killed 12 Turkish soldiers this weekend, Turkey's Prime Minister Recep Tayyip Erdogan said Sunday that his government will not rest until the Kurdish rebels are 'annihilated.'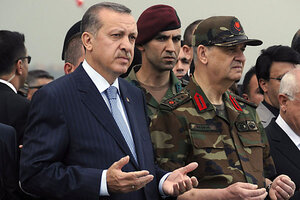 Reuters
• A daily summary of global reports on security issues.
Prime Minister Recep Tayyip Erdogan said that Turkey will not stop until the PKK is "annihilated" after the Kurdish rebel group killed 12 Turkish soldiers over the weekend.
The PKK attacks in Turkey's predominantly Kurdish southeastern region come amid an escalation of violence after the perceived failure of the government's attempt to solve the Kurdish problem politically, with a reform initiative to give Kurds more political and cultural rights.
Fighters from the Kurdish Worker's Party (PKK) on Saturday attacked a Turkish military outpost near the border with Iraq, killing nine soldiers. The Turkish military responded with helicopter fire, reportedly killing 12 fighters. Two more soldiers were killed Saturday in a mine blast that Turkey blamed on the PKK, and a PKK attack on a military outpost in Elazig Sunday killed one soldier, reports Bloomberg.
Mr. Erdogan spoke strongly Sunday at funeral services for the 11 soldiers killed, reports the Associated Press. "They will never win," said Erdogan. "They will obtain nothing."
---