Separatist leader rejects India's Kashmir plan
(Read article summary)
Hardline separatist leader, Syed Ali Shah Geelani, dismisses India's Kashmir plan to ease security measures as an effort 'to hoodwink the international community.'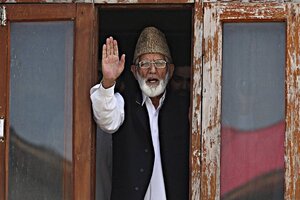 Altaf Qadri/AP
• A daily summary of global reports on security issues.
A hard-line separatist leader in Indian Kashmir on Sunday rejected an Indian government proposal aimed at ending the violent protests that have swept through the region since June.
More moderate Kashmiri leaders have not yet announced their stance on the Indian government's proposal to release jailed protesters, offer financial compensation to the families of those killed in protests, and ease security measures across the region. But New Delhi's delay in addressing the situation in Kashmir has empowered hard-line leaders, and their rejection of government overtures could mean the protests will continue.
Agence France-Presse reports that the leader who rejected the government's offer, Syed Ali Shah Geelani, has organized many of the protests in Kashmir this summer.
"It is a time-gaining exercise and unrealistic. It is aimed to hoodwink the international community," Mr. Geelani said of the government's offer, according to AFP. "If rulers in New Delhi believe that by releasing a few students and providing ex gratia relief to the families of martyrs they can reduce the alienation (of Kashmiris), they are wrongly mistaken."
Indian Express news service adds that Mr. Geelani said protests will continue unless the government addresses his five demands, which include acknowledging Kashmir as an international dispute and demilitarizing the region.
 
---