Cargo plane bomb would have detonated over Canada, not the US, say new reports
(Read article summary)
According to new reports, the UPS flight carrying one of the intercepted cargo plane bombs from Yemen last month would have been on a route that placed it over Canada when the detonation was set to occur.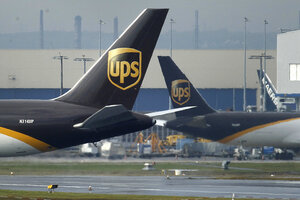 Ina Fassbender/Reuters
• A daily summary of global reports on security issues.
The US-bound flight that carried one of the parcel bombs from Yemen would likely have been detonated over Canada, not the US, had it not been intercepted late last month, according to new reports.
Previous reports, including a statement by British investigators, said the bomb could have been detonated over the east coast of the US, but flight data shows that UPS flight 232 does not always take the same path and would have actually been over Canada at the time, the Washington Post reports.
Online flight monitor flightaware.com indicates that the planned route for Oct. 29 would have passed by Newfoundland, Labrador, Quebec, and Ontario before reaching its US destination, according to the Canadian PostMedia news.
The bomb was one of two intercepted last month, one in East Midlands, England, and the other in the Dubai airport. Though the parcels were addressed to Jewish groups in Chicago, officials say they were prepared to detonate in flight.
---