Petraeus strikes back at Karzai ahead of major NATO conference on Afghanistan
(Read article summary)
A war of words has erupted between Afghanistan President Hamid Karzai and the United States just days before a major NATO conference on security strategy.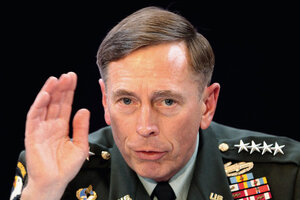 Dan Kitwood/AP Photo/Pool
• A daily summary of global reports on security issues.
A day after Afghanistan's president stridently criticized United States military tactics in Afghanistan, the US general in charge of international troops there has hit back. Gen. David Petraeus told officials Sunday that President Hamid Karzai's remarks threaten to undermine the war in Afghanistan.
The war of words puts the differences between Mr. Karzai and the US in sharp focus just days before the Obama administration will present its plan for transferring security responsibilities from coalition soldiers to the Afghan military and security forces. It also comes as 30,000 additional US soldiers have recently arrived in Afghanistan as part of a new US strategy there.
Meanwhile, Reuters reports that five NATO soldiers were killed in clashes with insurgents Sunday, while Agence France-Presse reports nine security guards and an Afghan police officer were killed Monday in a Taliban rocket attack. This is already the deadliest year for foreign troops in the nine-year Afghanistan war, with 645 international troops killed, according to icasualties.org.
---