Iran nuclear scientists targeted in Tehran blasts
(Read article summary)
The Iranian government has accused the US and Israel of plotting what they deemed "terrorist attacks," which killed one Iran nuclear scientist and wounded another.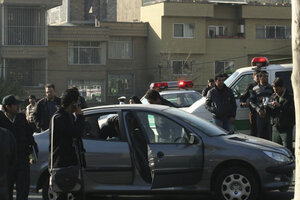 Fars News/Handout/Reuters
• A daily summary of global reports on security issues.
Two bomb blasts in the Iranian capital Monday killed a top nuclear scientist and wounded another.
State-controlled media immediately accused the US and Israel of being behind the assassination, which came days before Iran is scheduled to discuss its nuclear program with international officials. And on Sunday a trove of US embassy cables revealed by WikiLeaks revealed that multiple Arab countries have urged the US to bomb Iran's nuclear facilities. Iran says its nuclear program is peaceful, while many Western nations accuse Tehran of using the program to develop nuclear weapons.
State media reported that two bombs were attached to the cars of the scientists by unidentified men on motorcycles, then detonated from a distance, reports Agence France-Presse. The scientist killed was Majid Shahriari, a professor in the nuclear engineering department at Shahid Beheshti University in Tehran. Fereydoon Abbasi, also a professor at the university who is involved in nuclear research at the Defense Ministry, was wounded.
---