Booted from US-based domain, WikiLeaks site finds refuge with Swiss Pirate Party
(Read article summary)
A US-based domain name provider terminated its relationship with WikiLeaks.org, saying that attacks on the WikiLeaks site were causing problems for other users.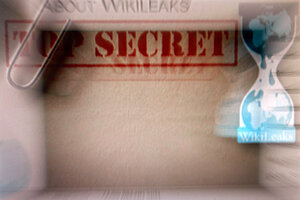 Petar Kujundzic/Reuters
• A daily summary of global reports on security issues.
The website WikiLeaks.org is no longer functioning, after its US-based domain host on Thursday terminated service for the controversial site. The expulsion forced WikiLeaks to relocate its domain name with a Switzerland-based domain name host, and the website is now found at WikiLeaks.ch.
Perhaps fittingly, the new domain host is the Swiss Pirate Party, which the Associated Press calls "a political group formed two years ago to campaign for freedom of information and sensible technology policy." The New York Times reported that the party is a branch of the Swedish Pirate Party, according to the website whois.com.
Former domain name host EveryDNS.net, a subsidiary of New Hampshire-based web host Dynamic Network Hosting, said in a statement on its website that it booted WikiLeaks at 10 p.m. EST on Thursday.
---