Pakistan court refuses to release US official, denying immunity
(Read article summary)
A Pakistan court refused to release Raymond Davis, an employee of the US Embassy in Lahore, saying that diplomatic immunity only goes so far.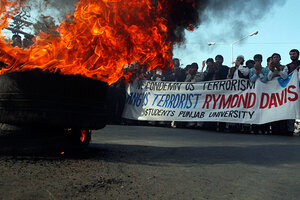 Mohsin Raza/Reuters
• A daily summary of global reports on security issues.
A Pakistani court refused today to release an American official to US authorities, igniting a diplomatic rift between the two countries as well as speculation about the official's role within the American government.
Embassy employee Raymond Davis is accused of murdering two Pakistan citizens in Lahore last Thursday as The Christian Science Monitor reported then. However, he has claimed that he was acting in self-defense after two men on a motorcycle attempted to rob him at gunpoint, according to a BBC report.
The State Department released a statement saying that Pakistani authorities are obliged to hand over Mr. Davis because he has diplomatic immunity.
"He is a member of the embassy's technical administrative staff and therefore entitled to full criminal immunity. He cannot be lawfully arrested or detained in accordance with the Vienna Convention," said State Department spokesman Philip Crowley on Monday, according to an AFP report.
---