Pakistani Taliban strikes funeral procession in second bombing in two days
(Read article summary)
Today's attack was in northwest Pakistan, where locals fighting the Taliban presence in their area are increasingly skeptical of government promises of protection.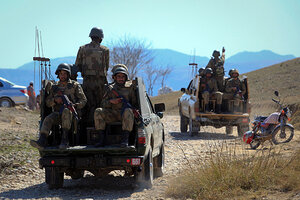 Fayaz Aziz/Reuters
• A daily summary of global reports on security issues.
The funeral procession for the wife of a Pakistani anti-Taliban militia member was brutally interrupted by a young suicide bomber Wednesday. More than 30 people were killed and some reports say as many as 100 were wounded in the attack claimed by the Pakistani Taliban.
The funeral was in Peshawar in northwest Pakistan, which abuts the country's tribal areas and has become a haven for Taliban and Al Qaeda fighters. Anti-Taliban militias have also become more common in the region.
However, despite initial encouragement, the lack of government support and protection for these militias is prompting second thoughts about trying to fight the area's Taliban and Al Qaeda presence themselves, the Washington Post reports.
Dilawar Khan, the leader of the Adezai militia holding the funeral Tuesday, told the Post they've managed to slow violence in Peshawar, but the lack of government and police back-up leaves them "vulnerable to repeated attacks."
---