Arab League approves no-fly zone in Libya. But is it too late?
(Read article summary)
The US and UK expressed support for the Arab League's approval of a no-fly zone as Libyan rebels beat a hasty eastward retreat from forces loyal to Col. Muammar Qaddafi.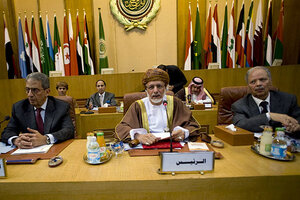 Grace Kassab/AP
• A daily summary of global reports on security issues.
The United States and United Kingdom expressed their approval of the Arab League's call Saturday for a United Nations no-fly zone over Libya. But despite the League's request, it remains unclear how effective a no-fly zone over Libya might be as Libyan rebels continue to lose key cities and towns to Col. Muammar Qadaffi's forces.

Agence France-Presse reports that Libyan rebels fled the oil town of Brega Sunday, as Colonel Qadaffi's forces continued to advance toward the rebel-held city of Benghazi in the east. AFP notes that the rebels' morale had been bolstered by the Arab League's call for a no-fly zone, which came before the retreat from Brega. (See map.)
The White House called the League's request an "important step" in dealing with the Libyan crisis, reports Reuters.
---