Are Hamas hardliners trying to derail Hamas-Fatah unity talks?
(Read article summary)
Hamas's military wing claimed direct responsibility for a Saturday mortar attack on Israel, which prompted a swift response from Israeli forces.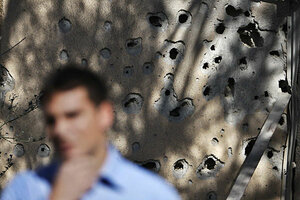 Amir Cohen/Reuters
• A daily summary of global reports on security issues.
Tensions mounted along the Israel-Gaza border Saturday as Israeli forces attacked a Hamas security site in response to a mortar barrage by Hamas. While Hamas claimed the mortar attack was a response to an Israeli airstrike on a Hamas military camp Wednesday that killed two people, analysts suggest that there were political reasons, rather than tit-for-tat military motivations, for the assault.
In another skirmish Saturday, YNet News reports that two Palestinians were shot and killed by an Israeli patrol along the Israel-Gaza border after the men attempted to set off an explosive device. It is unclear whether the men's actions were tied to the mortar attacks.
The New York Times reports that the mortar attack injured two Israeli civilians, and the Israeli tank and helicopter strikes in response wounded five Palestinians. The Times notes that – in a somewhat unusual step – Hamas's military wing claimed direct responsibility for the mortar attack, which consisted of as many as 50 shells. While permitting smaller Palestinian militant groups to attack Israel from Gaza, Hamas itself has largely stayed uninvolved in direct attacks since Israeli forces ended their incursion into Gaza in January 2009.
---