Bahrain's king thanks Saudi troops for thwarting 'external plot'
(Read article summary)
The remarks by Bahrain's king reflect an effort to pin his country's recent Shiite-led protests on interference by the Gulf states' regional adversary, Iran.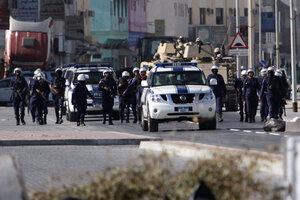 Hasan Jamali/AP
• A daily summary of global reports on security issues.
Bahrain's king said Monday the nation had thwarted an "external plot" to undermine security and stability in his tiny Gulf kingdom and thanked the Saudi forces he invited to the country last week to quell a mostly Shiite protest movement.
The king's statement, understood to be a veiled reference to Iran, seemed like an attempt to justify the use of foreign forces in Bahrain, as well as the violent crackdown on protesters, by using the regional rival as a boogeyman. There is little evidence that Shiite Iran has influenced Bahrain's demonstrators, who have protested against discrimination by the ruling Sunni elite and demanded democratic reform in the kingdom.
After the arrival last week of forces from neighboring Sunni-led countries, acting on behalf of the Gulf Cooperation Council (GCC), Bahrain's government attempted to end the protest movement by forcibly removing the protesters from the roundabout that was their symbolic headquarters and declaring a state of emergency that made further protests illegal.
"An external plot has been fomented for 20 to 30 years until the ground was ripe for subversive designs," said King Hamad Isa bin Al Khalifa, according to the Financial Times, as he visited the foreign troops. The king added that the plot could have spread to other Gulf countries if it had been successful.
---