Syrian Army deploys in port city after a violent weekend
(Read article summary)
Syria admitted for the first time that it is using force to put down protests after nine soldiers were killed in an ambush in the port city of Banias.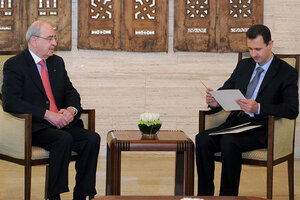 SANA/AFP Photo/Newscom
• A daily summary of global reports on security issues.
The Syrian Army sealed off the northwestern city of Banias – the latest hot spot for antigovernment protests – this weekend, even as Syrian President Bashar al-Assad assured his countrymen that Syria was on a path to "comprehensive reform." The government has cast the move as a defensive one, blaming the violence on foreigners and Syrian collaborators seeking to undermine the country's security and stability.
But activists are concerned that weekend crackdowns may hint at a harsher, larger crackdown to come later this week, the Guardian reported.
In Banias – a port city with an important oil refinery – and other cities where protesters have turned out, government security forces and soldiers have used brutal tactics to quell the demonstrations. The Guardian reported that, according to the National Organization for Human Rights in Syria, more than 200 people have been killed since protests began several weeks ago. Thirty-seven were killed on Friday alone.
The Syrian government blames the unrest on "saboteurs," according to the state news agency Sana. It is now openly admitting – for the first time, according to the Guardian – that it is using force to put down protests. The Ministry of Interior defended its position in a statement Friday:
The Syrian authorities, in order to preserve the security of the country, citizens and the governmental and services establishments, will confront these people and those behind them according to the law, which specifies the conditions for using weapons.
---